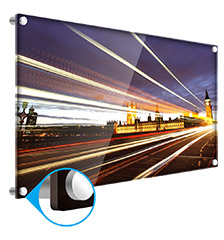 Acrylic print - 100×75 cm (direct print)
151,99 ¤
Printed behind acrylic glass - Ideal for background lighs
The acrylic glass allows light to pass through. This gives your photo print an impressive depth effect.
Material: 5 mm thick acrylic glass
Format: 100x75 cm
Direct prints are suitable for humid rooms (such as bathrooms, kitchens, etc.)
Tip: Don't forget to order your favourite wall mount with this product.
Product ratings - Acrylic print - 100×75 cm (direct print)
∅
5,0

/

5

Stars (

1

Rating)
5 Stars:

(1)

4 Stars:

(0)

3 Stars:

(0)

2 Stars:

(0)

1 Star:

(0)
Wir sorgen für Transparenz!
Hier finden Sie Produktbewertungen, die von unseren Kunden für unsere Kunden eingeschickt wurden.
Reviews:
Annette:

Great product and arrived quickly. I would definitely order acrylic prints from Pixum again.
High-quality materials
Brilliant colours
Permanent quality checks