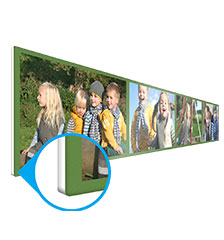 Forex photo panel - 80×20 cm (direct print)
37,99 ¤
This extra thin multi photo panel on forex, displaying up to 8 of your photos in an elegant row. Choose between portrait and landscape.
Material: stiff foam (Forex) direct print, composed of two thin layers of plastic and a layer of hard foam
Size: 80×20 cm
Product ratings - Forex photo panel - 80×20 cm (direct print)
∅
5,0

/

5

Stars (

1

Rating)
5 Stars:

(1)

4 Stars:

(0)

3 Stars:

(0)

2 Stars:

(0)

1 Star:

(0)
Wir sorgen für Transparenz!
Hier finden Sie Produktbewertungen, die von unseren Kunden für unsere Kunden eingeschickt wurden.
Reviews:
Leslie:

Excellent quality,simple to assemble the photos,great packaging.