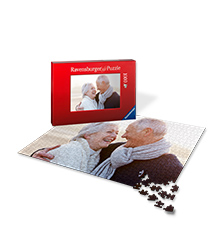 Photo Puzzle from Ravensburger® (1000 pieces)
39,95 ¤
(VAT included,
P&P
excluded)
Puzzle of favourite photos: easy to design and responsible for a lot of fun
Create an inventive and high-quality surprise by using your favourite photos to design your own Ravensburger® puzzle of 500 pieces within just a few minutes time. This branded product consists of 500 pieces that are brilliantly coloured and printed precisely. Your personal puzzle image is printed on the stable cardboard packaging. You can individually design the packaging of the puzzle. You will get best quality from a specialist. An outstanding gift that you can also use as a creative invitation or romantic message.
If you would rather have a smaller puzzle with fewer pieces, then order the
Ravensburger puzzle with 500 pieces
.